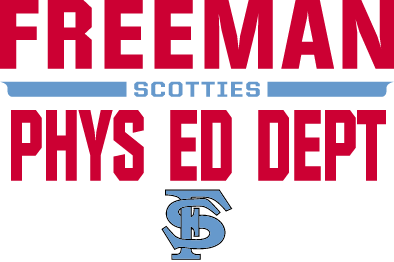 Phone:
Email:
Degrees and Certifications:
BA Physical Education MA Instructional Technology
Mr.

Cochran

About Mr Cochran

I would like to introduce myself and some of the experiences that I will be bringing to the Freeman School District. I am very excited about my new position teaching and coaching.

I am 40 years old and live in South Spokane, Washington. I have been teaching for sixteen years and I have been working at Rogers High School for the last 6 years. I have been teaching AVID and advance conditioning. AVID is a college and career readiness course. Previously I taught a similar class at Lincoln High School in Tacoma for five years. My first teaching position I taught in the Franklin Pierce School District as a Physical Education and Health teacher at Ford Middle School.

Athletically I have been playing football ever since the fourth grade. I grew up in a small town in Redland, Oregon and graduated from Gladstone High School. At Gladstone I was a four-year letterman and ended my career as an All-State Linebacker and Fullback. After being recruited by many colleges across the nation I chose to go to a college that reflected the character and philosophies I wanted as player. I decided to play for Frosty Westering at Pacific Lutheran University. I played at PLU for three years and these were undoubtedly the most unforgettable seasons in my life. My greatest season at Pacific Lutheran was when we won the 1999 NCAA III National Championship. This team was later inducted into the PLU Hall of fame.

Shortly after finishing my collegiate football career I began coaching freshman football at Franklin Pierce High School. In 2002, after graduation, I began teaching and coaching football, track and girls soccer at Ford Middle School. After five years of teaching and coaching at Ford Middle School I took a position at Lincoln High School. The first year I volunteered with the freshman football team, the second year I was the interim Head Coach and eventually the defensive coordinator. During my time at Lincoln I was awarded Narrows 3A Assistant Coach of the Year. When my family and I moved to Spokane in 2011 I began coaching at John R Rogers High School. I started as a position coach, the next year I was defensive coordinator and in 2014 I was named Head Football Coach. Coaching at Rogers has been a great experience and many of the things I have implemented have made our program stronger on and off the field. In my first season as head coach we broke a two-year losing streak, the next year we took our team to the playoffs for the first time in 40 years and I was named GSL Head Coach of the year. This year we defeated Ferris for the first time in 20 years, and for the first time in 70 years defeated a team from Idaho. Off the field, I started our first football parent boosters who were very successful raising money for our football team, I purchased many new pieces of equipment, implemented a very successful off-season weight training program, and have helped raise our players GPA. Football players win games but these are the things that I believe help make a successful program. Coaching at Rogers has been a great experience and has challenged me to creatively cultivate the program that I envision. I am excited to bring my knowledge about football and the traditions of my football program to the Freeman Football team.

The greatest accomplishment that I have is that I am married to my beautiful wife Crystal for 16 years and have 14-year-old twin boys, Caleb and Nathan, an 11 year old daughter named Alena and my 7 year old boy named Titus. My wife Crystal, was also a teacher and currently works for my dad's family business. As a family it is our passion in life to make an impact on youth in our city, schools, and community. I look forward to the all of the challenges one may encounter as a coach and a teacher, working with students, staff, and the community. I am confident that my experiences in life have prepared me for this and for the many victories ahead.

Coach Cochran

GO SCOTTIES!!!!!!!!!!!!!!!!