Freeman School District offers a continuum of services for students in special education.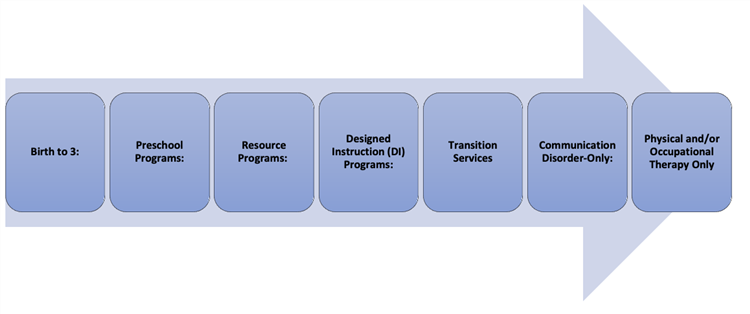 Birth to 3: We contract services with the Spokane Regional Health District to enroll children with disabilities who reside within Freeman School Districts boundaries and are up to 3 years old. Services are monitored by the Family Resource Coordinator.
Preschool Programs: Assist 3-5-year-old children with mild to severe disabilities to prepare for kindergarten or other elementary Special Education programs. The preschool curriculum focuses on increasing cognitive, communication, social, behavior, and motor skills.
Resource Programs: Provide specially designed instruction in reading, math, writing, and behavior/social skills in both inclusive and self-contained classrooms. Programs are available in each elementary, middle school, high school and alternative settings.
Designed Instruction (DI) Programs: Provide a small classroom setting for students who have moderate to severe intellectual disabilities and delays in adaptive behavior. The curriculum focuses on functional skills in: communication, daily living, social and functional academics. Community access, vocational and transition skills are provided at the high school level.
Transition and Adult Services (ages 16–21): It is an ongoing and step-by-step process that uses information about your student to create goals for life after high school and a path to reach those goals.
Communication Disorder-Only: For students who receive Speech and Language Therapy services provided by a Speech and Language Pathologist. Students receive services in their neighborhood school determined by their eligibility for services. Speech and Language Pathologists (SLP) are in each school building.
Physical and/or Occupational Therapy Only: For students who require gross and/or fine motor skill development exclusively for their involvement and progress in the general education curriculum. Physical Therapists (PT) and Occupational Therapists (OT) are itinerant service providers and may serve students in all schools.